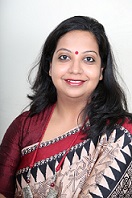 Ms. Sohini Shrivastav
Assistant Professor (Law)

Phone- 022 4235 5984

E-mail Id: sohini.shrivastav@nmims.edu

Academic and Professional Qualifications:
LLM (Constitutional Law) from Kakatiya University, in 2012 
B.A LLB(Hons) from Gujarat National Law University in 2010
Research Area:
Foreign Exchange Management Act and its implications in doing business in India
Work Experience (Academic):
Academic:
Courses taught In Kirit P. Mehta School of Law in the Academic Year 2017-18:
Land Laws, 
Law of Contracts, 
Principles of Taxation, 
Law of Insolvency and Bankruptcy and 
Foreign Direct Investment
Courses taught in NMIMS School of Business Management (MBA-Law) in the Academic Year 2017-18:
Legal Methods
Business Contracts
Teaching Pedagogy and Innovation:
I follow the practical approach to teaching. It involves a lot of real life case studies, workshop style classes for negotiation and drafting etc.
Total Teaching Experience: 4 months
Industry:
Total Industry Experience: 7.2 years as Senior Associate in D.M Harish & Co. Advocates
In the aforementioned 7.2 years, have worked on several reported transactions in the fields of FEMA, Real Estate and Private Equity. 
My work involved advising clients, being actively involved in negotiations, drafting of transaction documents and ensuring successful completion of the transactions.
Summits, Conferences and Seminars Attended:
Paper Presentations:
International: Presented Research Paper on "Gender (In) Equality in Access to Natural Resources: A Developing Nation's Perspective at the prestigious European University's 10th Mediterranean Research Meeting, Italy, March 2009. 
National: Jointly presented a Research Paper on "The Diminishing Accountability Ratio in Media and Ethics" at the Asian Media Information & Communication Institute" International Conference at New Delhi in July 2009.
Service to the Institution and Administrative Responsibilities:
Program Head of Corporate Law Centre of KPMSOL for the Academic Year 2017-18. 
Member of the Syllabus Standardization Committee in KPMSOL for the Academic Year 2017-18. 
Member of the Attendance Committee in KPMSOL for the Academic Year 2017-18.