Dean's Message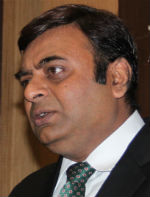 Rhishikesh Dave
Dean, School of Law
LL.M, Ph.D.
I welcome you all to the School of Law, NMIMS an institution aspiring to be the Centre of Excellence for imparting quality Legal Education in the world of global education. School of Law endeavors to nurture among its learners all those qualities that legal professionals are required to develop, to meet the ever increasing demand and ever changing needs of the legal industry. With the contemporary curriculum and outcome based pedagogy, School of Law is committed to provide an over-all development of future legal professionals with well equipped skills, positive attitude and self confidence to cope up with the challenges that arise in the complex legal arena. The outcome of this mission has been encouraging, as demonstrated by the enthusiastic response of learners eager to become a part of the Law School fraternity. The programmes offered at the School are highly rigorous, comprehensive and practical oriented. Well qualified, experienced and diversified faculty with global exposure, excellent infrastructure and well planned learners support system will surely groom the learners in the right direction to succeed in the legal professional world.
The School of Law is on its way to establish Research Centers and have academic collaborations with National and International professional institutions, which will provide learners with diverse opportunities to acquire knowledge of complex legal issues.
Keeping in view the advancement of Science and Technology, the specializations and elective courses in emerging and contemporary areas of Law are designed to equip the learners handle legal issues arising as a result of such developments. Concurrently, courses on subjects like Critical Thinking, Legal Writing, and Moot Court etc. will provide essential skills and advantage to be a successful legal professional.
The School has also introduced compulsory internship program where learners will undergo 10 internships spread across 5 years. This will give learners an exposure to the practical side of Legal profession.
I am confident that you will enjoy a vibrant life during the five year stay on the campus. I wish you all the best for your journey of excellence during your five year stay with us.