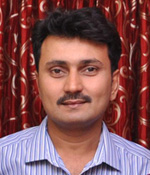 Prof. Sunil George
Assistant Professor, School of Law

B.A (Economics), LL.B.,  LL.M., NET (Law), SET (Law), Pursuing Ph.D. in Law and Economics

Profile
Having associated himself with the corporate world for almost 12 years in the Legal, Secretarial and Administration departments, he went on to pursue his passion which is teaching. Prof. Sunil George completed his graduation in Economics from Ruia College, went on to pursue his LLB from Government Law College and LLM from Mumbai University. He has also cleared his NET and SET exams in Law conducted by UGC. He is currently pursuing his Ph.D. in Law and M.A in Economics.
He is also a visiting faculty to School of Business Management and School of Commerce.
He has been a visiting faculty with many colleges like Jitendra Chouhan Law College, Advani Law College, PES College, CWC Law College, Thane Law College and Rizvi Law College.
He has also been a visiting faculty to the Institute of Company Secretaries of India.
Areas of Specialization
Criminal Law, Human Rights Law
Interest Areas
Contract Law, Company Law, Property Law,Criminal Law, Family Law, Human Rights Law, Economics and Logic.
Email ID
sunil.george@nmims.edu