Understanding the Corporate World by Ms. Anisha Patnaik
Ms. Anisha Patnaik (Co-founder, LexStart) visited NMIMS Kirit P Mehta School of Law on 28th April 2017 to give a talk on "Understanding the Corporate World" for the subject on Personality Development and Communication Skills. The session was for third year B.B.A. LL.B. (Hons.) and B.A. LL.B. (Hons.) students in Mithibai Seminar Hall between 12:00pm to 1:30pm.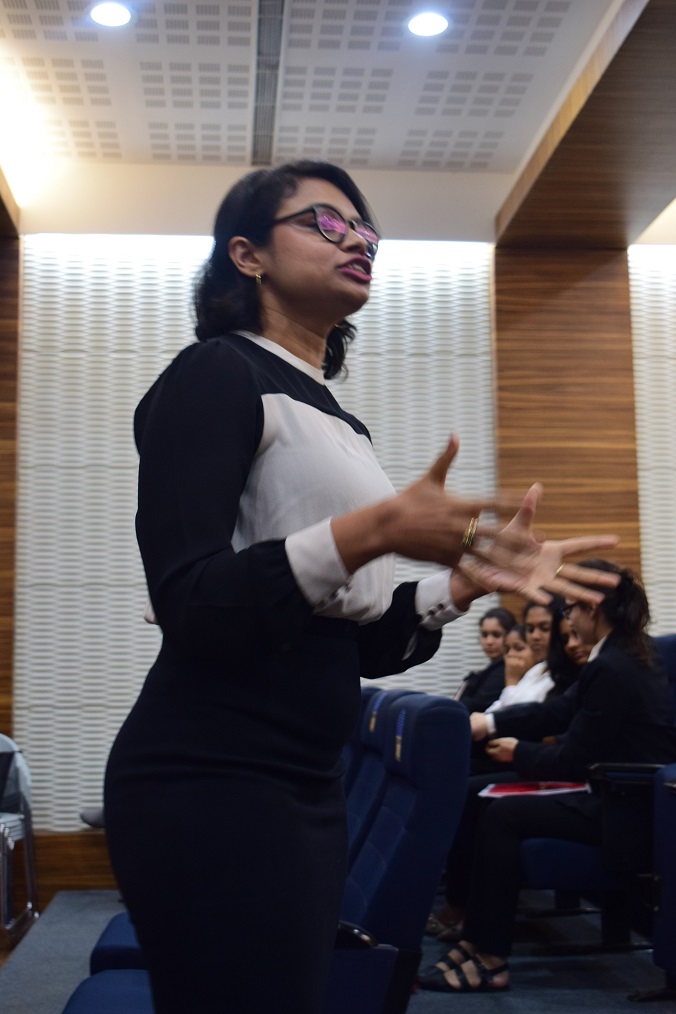 She gave an impromptu session of her personal journey in law and early workplace environment. The skills needed to get noticed during interviews, and while interning in a corporate law firm was impressively highlighted by the speaker. She elaborated upon the two basic focus among the corporates: Presentability and Knowledge; that provides a competing edge over other interns during selection process. On the question of the size of the firm and the weightage in the CV, she advised to begin with small law firms, as there is more probability among small law firms to assign more work to new interns as opposed to big law firms. The speaker took many questions from the audience and provided an insider perspective that is generally held by corporate recruiters. Lastly she guided the students to be open minded and nonjudgmental, in terms of the quantity and nature of work assigned in firms, as they all can enrich the basics of an intern. Overall, the session was highly interactive and humorous. The students displayed their satisfaction and are looking forward to more such interactions in the future.