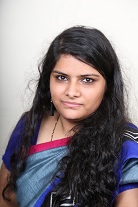 Ms. Deepika Chhangani
Assistant Professor, School of Law

B.A. LL.B. (Hons.), LL.M.

Academic and Professional Qualifications:
LL.M. (Intellectual Property Rights & Information Technology),
Department of Law, Mumbai University, [2013-15]
B.A. LL.B. (Hons.), (Business Laws and Intellectual Property Rights)
Rajiv Gandhi National University of Law (RGNUL), Patiala, Punjab. [2012]
Areas of Research Interest:
Constitutional Law,
Intellectual Property Laws,
Law of Contracts.
Work Experience (Academic):
Academic:
Assistant Professor, Kirit P. Mehta School of Law, Narsee Monjee Institute of Management Studies (NMIMS) (June, 2017 – Present)
Teacher Associate (Law), Maharashtra National Law University Mumbai (1st July, 2015 – 31st December, 2016)
Courses taught
Legal Protection to Industrial Designs
Property Law
Law of Infrastructure Development
Alternative Dispute Resolution
Election Law
Entertainment Law
Trademark Law
Intellectual Property Rights
Teaching Pedagogy and Innovation: 
Socrates Method and Case Discussion
Total Teaching Experience:
3 Years & 7 Months
Industry:
Associate at Agnihotri and Jha Associates, Intellectual Property Rights Attorneys [2013]
Paper Presentations:
International:
Presented a paper titled "Competition law and Oil and Gas Sector in India: A Critical Analysis", Oxford Symposium on Population, Migration and Environment, St. Hugh College, Oxford University, UK, 7th December, 2017
Presented a paper titled "Driving Trends in Intellectual Property Valuation: Through Brands Rewired Process", MIPS'2014, IIT Mumbai, February, 2014.
National:
Presented a paper titled "Technology and Mercurial Social Media Networking: Science of today's Indian Celebrities", Faculty of Law, MS University, Baroda, March, 2014.
Workshops and Professional Training Programs Attended:
Attended Workshop 'Syllabus Preparation, Teaching and Evaluation Methods and Research Capacity Building Workshop for Law Teachers' at Saveetha University, Chennai, 2 – 4th July, 2015
Service to the Institution and Administrative Responsibilities
Kirit P. Mehta School of Law, Narsee Monjee Institute of Management Studies (NMIMS) (June, 2017 – Present)
Member, Benchmarking Committee
Reviewed and benchmarked different syllabuses of law school in tune with international standards
Maharashtra National Law University Mumbai (1st July, 2015 – 31st December, 2016)
Member, Curriculum Development Committee
- Developed the entire list of subjects for 10 Semesters in accordance with choice based credit based system of UGC
Teacher – in – Charge, Moot Court Society
• Supervised Intra Moot Court Competitions (2)
• Arranged Guest Lectures on Mooting (4)
• Reviewed the Moot Court Policy
• Assisted teams in preparations for External Moot Court Competitions
Convener, MNLU Library Committee
• Convened regular Official Meetings (8)
• Communicating with various Book Vendors for various purchase orders
• Meetings with various vendors for the purpose to enhance and upgrade MNLU Library
UG Coordinator, Semester II
• Convening and Recording of Fortnightly Meetings of Faculty Members (6)
• Record of Academic Progress of the Semester (Academic Review Reports)
• Coordinating for necessary Arrangements for Guest Lectures
• Circulation of Reading Material
Faculty Member, Anti Ragging Committee
Administrative Responsibilities
• Chief Organizer, Orientation Day for First Year Students (1st August, 2015)
• Member, Logistics Committee
• Member, House Committee
• Coordinated for itinerary arrangements of Guest Faculties and Workshop on 'Clinical Legal Education'