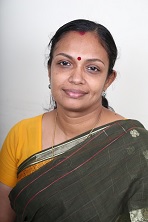 Dr. Vrinda  Mohan P.
Assistant  Professor (Sociology)

E-mail Id: VrindaMohan.P@nmims.edu

Academic and Professional Qualifications:
Ph. D. (Sociology) Kerala University (Degree Awarded) in 2012. 
M.Phil. ,Kerala University 2003 
PGDCA ( ET&T),Thiruvananthapuram ,2002 
MA in Sociology Kerala University in 2001.
Qualified SET(Kerala)2003 
Qualified NET 2010
Expertise in Statistical Techniques/Dataset Handling/Technical Skills (ICT):
Software Skills:
Microsoft Office 
SPSS (Statistical Package for the Social Sciences)
Research Area:

Ph. D. Topic:

Hospitality Industry: Impact of Tourism in Coastal area of Trivandrum with special reference to Kovalam

Areas of Research Interest:

Gender studies
Sociology of Development

Research Projects:
Worked as a research officer in UGC Minor Project, undertaken by Department of Sociology, University of Kerala, Thiruvananthapuram (2010-2011)
Work Experience:
Academic:
Working as Assistant Professor (Sociology ) in NMIMS KPM School of Law since May 2014 
Worked as a visiting faculty in School of Law, NMIMS University , Mumbai (2013) 
Worked as lecturer in KES Shroff College of law, Kandivali, Mumbai(2012-2013) 
Worked as Sociology lecturer in Kendriya Vidyalaya, Mulund, Mumbai(2011-2012) 
Worked as lecturer in Sociology, GPM College, Andheri, Mumbai(2010-2011)
Courses taught:
Sociology, Research Methodology, Criminology
Total Teaching Experience: 6 years
Summits, Conferences and Seminars Attended:
Paper Presentations:
Presented paper in UGC Sponsored national seminar on Topic "Tribal Health Care :Issues and Challenges in India " organized by Loyola College of Social Sciences ,March 2017 
Participated in national seminar on "Changing HealthCare Scenario and Emerging Social problems " organized by University of Kerala (2010) 
Presented paper "Emerging Trends in Medical Tourism "in Sixth International Conference of Indian Association for Social Sciences and Health held at Pondicherry 2009 
Presented paper in the National Colloquium on Strategies for Youth Empowerment Organized by RGNIYD University 2009.
Memberships (Academic and Professional only):
Annual Member of Kerala Sociological Society since 2003.
Workshops and Professional Training Programs Attended:
Participated in seven day Faculty Development Programme on "Effective Pedagogical tools in Legal Education" organized by NMIMS, Mumbai. (11th Feb to 17th Feb 2017) 
Participated in Two day Faculty development Programme on "Goods and Services Tax" organized by NMIMS, Mumbai. (4th & 5th of Nov 2016) 
Participated in Two day Faculty Development Workshop organized by Pravin Gandhi Law College, Mumbai (14th - 17th March 2016)
Service to the Institution and Administrative Responsibilities:
Area Chairperson for B.A. LL.B. (Hons.),September 2017 onwards 
As Faculty Coordinator of Cultural committee in SVKMs NMIMS, KPM School of Law, Mumbai 2016 onwards 
As Programme Coordinator in Faculty Development Programme on 'Effective Pedagogical tools in Legal Education' organized by School of Law, SVKM's NMIMS, Mumbai during 11-17 February, 2017.