Theatre Workshop for First Year BA & BBA LL.B. (Hons.)
A theatre workshop was organised for the first year students of B.A. LL.B. (Hons.) and B.B.A. LL.B. (Hons.) from 23rd November to 25th November 2017. The workshop was for the subject of General English conducted in Juhu Jagruti Hall. It was conducted by the Ms. Sharmishta Saha (Artistic Director, Quissa Kothi and a postdoctoral fellow in Theatre and Drama), also an Assistant Professor in IIT Bombay.
The idea of the workshop was to make students beat shyness and enhance their body language. Another aspect was to make them learn the basics of theatre and arts. In order to orient the same to the students, they were divided into batches of 30 for enabling them to enact and interact with themselves in a span of four days.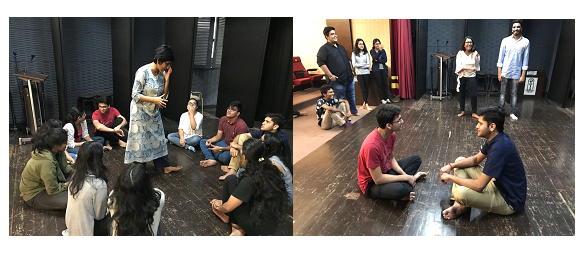 [Inset: Ms. Sharmishta Saha interacting with students of KPMSoL]
KPMSoL students got a taste of theatre when they began their session to introduce each other, post a warm up exercise. Ms. Sharmishta oriented students on focus on two things in theatre: the mover and the perceiver. She brought references from Peter Brook to illustrate the students' understanding of body movements and stage play. This was now enacted on stage by participants as they moved and made others deliberately perceive their movements. Students became more excited as more activities came by. Throughout the session they occupied the stage by releasing their self-expression and their body movements.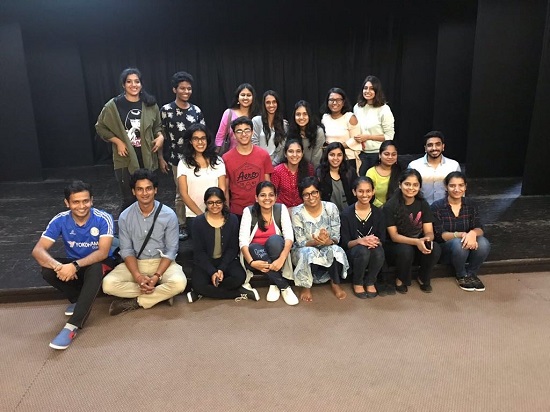 [Inset: Ms. Sharmishta Saha interacting with students of KPMSoL]
After the session when they were asked to provide feedback, most of them thanked Ms. Sharmishta and the faculty-in-charge of General English: Mr. Rakesh Nambiar for conducting the workshop. Students brought a new sense of enthusiasm at the end to request the General English faculty member to have a session of similar nature in the next semester.